In Memory
Livia D. Hardman (Dodds)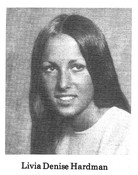 She was a beautiful girl - RIP Livia Hardman Dodds
02/10/1997
Livia Dodds
Livia Hardman Dodds died at home in Mountain View on Dec. 26 after a
long battle with cancer. She was 42. Her sister, Renee Hardman, was
taken by the same disease six months earlier.
A native of Newport, RI, and the daughter of a Naval officer, she spent
several years in Paris and Honolulu where she received an early
education. She was a graduate of Los Altos High School and received a
bachelor of arts degree from Cal State College at Sonoma. For several
years she worked as a lab technician at the Palo Alto Medical
Foundation and was an accomplished illustrator and author of children's
books.
She is survived by her husband, Edwin Dodds of Mountain View; parents,
Ward and Nettie Hardman of Los Altos; siblings, Ward Jr. and Eric
Hardman, Karen Wickhorst, Gretchen Riedell and Camille Nixon and their
spouses and children.
A memorial service was held at the St. Thomas Aquinas Church in Palo

Cause of death: breast cancer